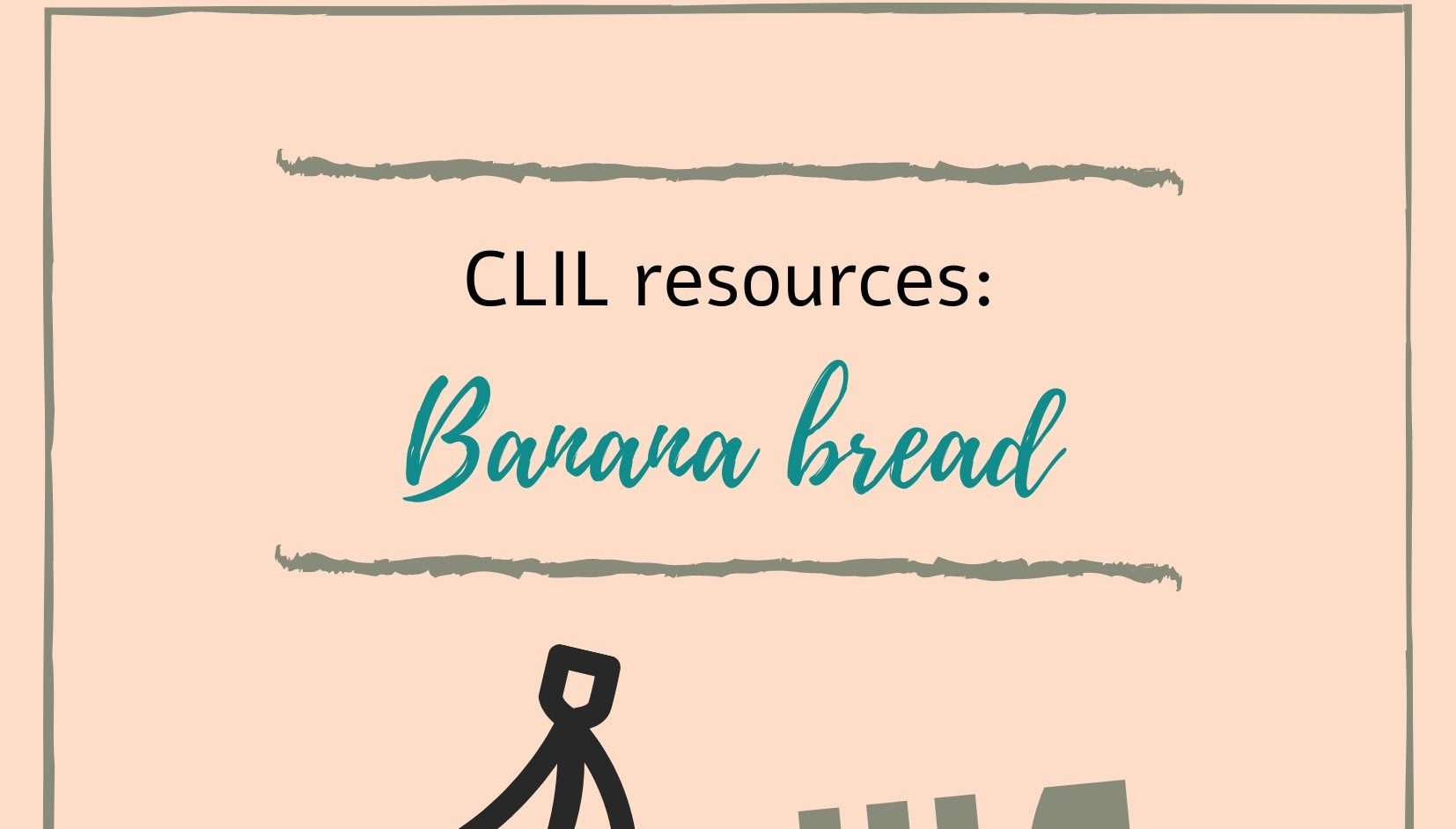 Hi everyone!  Today we are going to share an activity that you can do as a family: a recipe to cook Banana Bread!  🙂
Hoy te traemos una actividad preciosa que podéis hacer en inglés y en familia. Ya habíamos compartido con vosotros la receta gratis de carrot cake. ¡Pues hoy te traemos una receta para cocinar banana bread!  Compartimos con vosotros una receta fácil de cocinar y con un inglés adaptado para que los pequeños y adolescentes lo puedan entender sin problemas (incluimos algunas traducciones básicas al final).
Let's get started!
BANANA BREAD RECIPE:
INGREDIENTS
115g

butter

3

eggs
225g flour

225g

sugar
250g chopped nuts
1 teaspoon of bicarbonate of soda, dissolved into 4 tablespoons of milk
3 bananas
1/4 teaspoon of salt
1 teaspoon of baking powder
1 teaspoon of vanilla extract
PREPARATION TIME
Preparation time: 20 minutes
Cooking time: 1 hour
INSTRUCTIONS
1. Dad or mum:  
Preheat the

oven

to 150º.

Melt

the butter in a saucepan
2. You:
Beat

the

eggs

in a

bowl

Then, add in the bananas and

mash

until it is smooth. 

Pour

the sugar,  the eggs, the butter and the bananas into the

bowl

.

Mix

well. 

Add the bicarbonate with milk, the baking powder, the chopped nuts, the salt and the vanilla extract.

Stir well

and

mix

the content of both bowls.
3. You, dad and mum:
Grease

a cake tin with some butter.

Flour

the cake tin.

Pour

the cake mixture into this

cake tin.
4. Dad or Mum:  
Place

it into the oven to

bake

for  45 minutes.

Remove

from the oven when it is ready and allow to

cool.
Use a sharp bread knife to cut the banana bread.
Si quieres imprimir la receta y colgarla en la nevera… Aquí la puedes descargar en formato pdf 🙂
TRANSLATIONS (for parents)
Intenta enseñar el significado de las palabras sin dar la traducción directamente a tus hij@s.
                                          VERBS
MELT
derretir
BEAT
batir
PREHEAT
precalentar
MASH
triturar
POUR
verter
MIX
mezclar
STIR
revolver
GREASE
engrasar (con mantequilla)
FLOUR
enharinar
PLACE
colocar
BAKE
cocer (al horno)
REMOVE
sacar
COOL
enfriarse
CUT
cortar
                     NOUNS

OVEN
horno
CAKE TIN
molde
SAUCEPAN
cacerola
SHARP BREAD KNIFE
cuchillo de pal afilado
SUGAR
azúcar
EGGS
huevos
BOWL
cuenco
BICARBONATE
bicarbonato
BAKING POWDER
levadura en polvo
FLOUR
harina
Esperamos que llevéis el confinamiento de la mejor manera. Compartir actividades como cocinar juntos se puede convertir en el momento más especial del día. Y además, lo aprovechamos para aprender inglés.  Recuerda que empezar a ver el inglés como una herramienta de comunicación más para HACER cosas es muy importante si quieres que tus hijos/hijas  aprendan esta lengua.
Esperemos que paséis un rato muy divertido cocinando banana bread. Puedes recibir todos  nuestros artículos directamente en tu correo electrónico si te suscribes a la newsletter. En el blog puedes encontrar otras ideas para potenciar el aprendizaje del inglés durante esta temporada en la que debemos quedarnos en casa.
https://lescoladelmon.com/wp-content/uploads/2020/04/Copy-of-Copia-de-Copia-de-Cream-Green-Minimalist-Surf-Wedding-Invitation-e1586253153495.jpg
942
1654
Berta Torras
http://lescoladelmon.com/wp-content/uploads/2015/10/escoladelmon_logo_quadrat.jpg
Berta Torras
2020-04-07 11:36:19
2023-01-05 11:01:51
Let's cook Banana Bread!