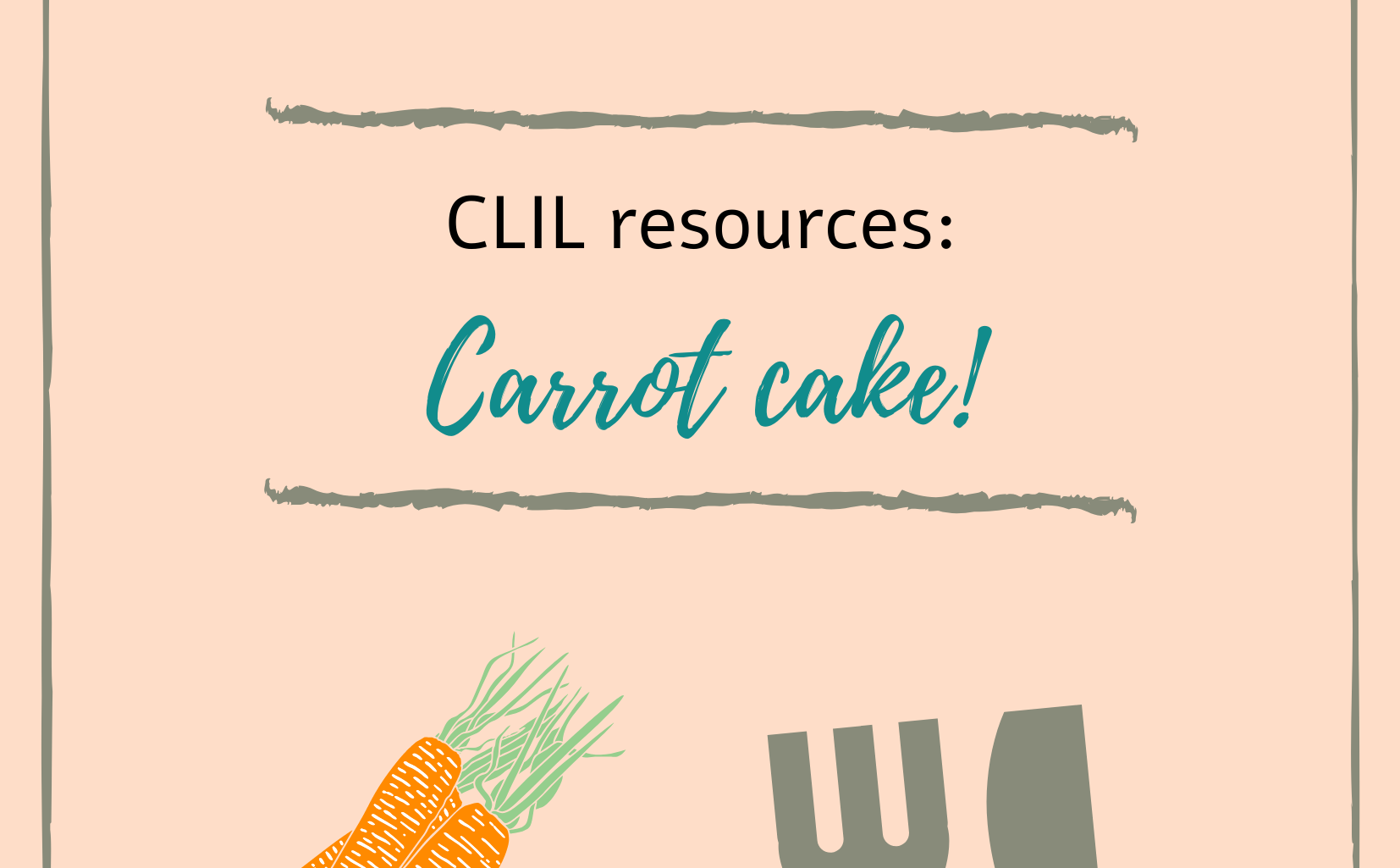 Hi everyone!  ¿Cómo va el normalizar el inglés en casa?
Hoy te traemos una actividad que podéis hacer en familia para normalizar el uso del inglés y para pasar un buen rato juntos. Se trata de una de las actividades más frecuentes en casa, así que… ¿por qué no hacerla en inglés? Hoy se trata de cocinar en inglés con tus hij@s. ¿Os gusta el pastel de zanahoria?  Además, es muy fácil de cocinar y la receta que te proponemos está diseñada para que la puedan realizar tus pequeños (siempre con tu ayuda, por supuesto).
Are you ready? It's time to have fun!
CARROT CAKE RECIPE:
INGREDIENTS
450g

sugar

250ml

olive oil

4

eggs

225g

carrot

225g

flour

175g

chopped nuts

1 and half teaspoons of

bicarbonate of soda

1 and a half teaspoons of

baking powder

1 teaspoon of

ground cinnamon.
PREPARATION TIME
Preparation time: 20 minutes
Cooking time: 1 hour
INSTRUCTIONS
1. Dad or mum:  
Preheat the

oven

to  190º.
2. You:
Peel

and

grate

the carrots.

Pour

the sugar, the oil, the eggs, the carrots and the nuts into a

bowl

.

Mix

well.

Pour the bicarbonate, the baking powder, the cinnamon and the flour (you can

sift

the flour first) into another bowl.

Stir well

and

mix

the content of both bowls.
3. You, dad and mum:
Grease

a cake tin with some butter.

Flour

the cake tin.

Pour

the cake mixture into this

cake tin.
4. Dad or Mum:  
Place

it into the oven to

bake

for  40 minutes.

Remove

from the oven when it is ready and allow to

cool.
Use a sharp bread knife to cut the cake.
Si quieres imprimir la receta y colgarla en la nevera… Aquí la puedes descargar en formato pdf 🙂
TRANSLATIONS (para papá o mamá)
Intenta enseñar el significado de las palabras sin dar la traducción directamente a tus hij@s.
VERBS:
PREHEAT: precalentar

PEEL: pelar

GRATE: rallar

POUR: verter

MIX: mezclar

SIFT: tamizar

STIR:revolver

GREASE:engrasar (con mantequilla)

FLOUR: enharinar

PLACE: colocar

BAKE: cocer (al horno)

REMOVE: sacar

COOL:enfriarse

CUT: cortar
NOUNS:
OVEN: horno

CARROTS: zanahorias

CAKE TIN: molde

SHARP BREAD KNIFE: cuchillo de pan afilado

SUGAR: azúcar

OIL: aceite

EGGS: huevos

BOWL: cuenco

BICARBONATE: bicarbonato

BAKING POWDER: levadura en polvo

FLOUR: harina

GROUND CINNAMON: canela molida
Hoy hasta aquí. Crear pequeñas rutinas en casa utilizando la lengua inglesa puede ayudar muchísimo a tus hijos o hijas a normalizar el inglés. A empezar a verla como una herramienta de comunicación más para HACER cosas. En nuestro país el inglés genera mucha frustración porque en el sistema educativo muy a menudo se vive como algo que hay que estudiar.
Esperemos que paséis un rato muy divertido en casa cocinando carrot cake, y que esta sección os sea muy útil en casa o en el cole. Recuerda que si quieres recibir nuestros artículos directamente en tu correo electrónico… ¡puedes suscribirte a la newsletter. 
https://lescoladelmon.com/wp-content/uploads/2020/04/Copy-of-Copia-de-Copia-de-Cream-Green-Minimalist-Surf-Wedding-Invitation-e1586253028870.png
1025
1654
Berta Torras
http://lescoladelmon.com/wp-content/uploads/2015/10/escoladelmon_logo_quadrat.jpg
Berta Torras
2018-03-13 21:18:34
2023-01-05 11:07:02
Let's make a carrot cake!